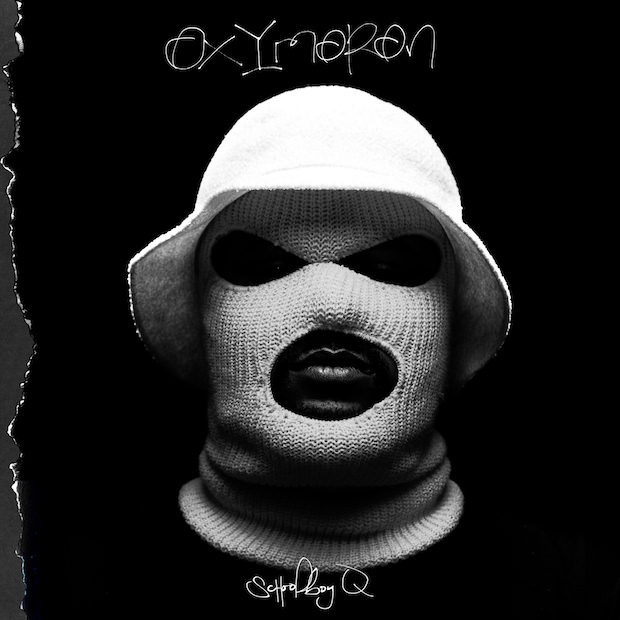 Despite running a music blog, I border on being a musical Luddite. I don't have a Spotify account, have never seen Pandora in action, and still haven't managed the ins and outs of Soundcloud. When albums leak I don't ever hear them, partially because download sites are alien to me but also because I don't like my listening experience to be spoiled. I'm the same with singles being released ahead of an album. I can listen to one in advance without any concern, but I start to grow nervous if I hear a second or third. Though it's admittedly silly, I don't want to be shown the whole picture. I want to figure it out on my own.
That said, Schoolboy Q could share all of Oxymoron before it debuts and I'd listen-in without any qualms. Everything off the Black Hippy's third release has been that compelling. There's chest-puffing earworm "Collard Greens", claustrophobic rumbler "Banger (MOSHPIT)", and the perpetually bouncing "Man of the Year". Alchemist collabo "Break the Bank" continues the trend while threading a needle through the disparate strands. The tremulous guitar sample recalls "Banger (MOSHPIT)" without marinating as long. A descending piano figure will linger in your memory bank as long as "Collard Greens" blissfully nonsensical chorus. And a warning of "good grades and skipped school, this life gon' catch up soon" rivals the gnarled wisdom of "
home of the paid on the first, then probably going broke by the third." Q continuously veers across multiple lanes for the length of the track's six minutes. In one instance he's singing "la di da di da", then he's running from baseheads in the park. As a brash teen he's says "f*** rap" before embracing it in his wizened 20s. An album change isn't enough to rid Schoolboy Q of his inherent contradictions.
Oxymoron drops February 25th through TDE/Interscope.