Interpol plan new tour/album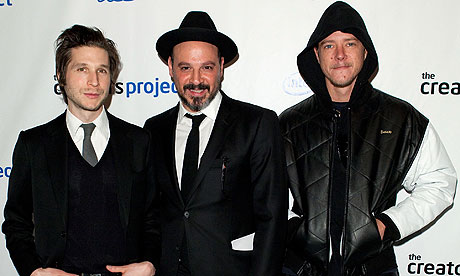 Interpol has been making a bit of a comeback of late. The NYC three-piece announced a slew of tour dates on their website, including choice dates at the Governor's Ball Music Festival and All Tomorrow's Parties Iceland. Along with those festival dates, frontman (and occasional rapper) Paul Banks, guitarist Dan Kessler, and drummer Sam Fogarino will be top-billed on NME's Awards Tour which spans eight dates across the U.K. in March.
While the band tours the U.K., they'll be wrapping up their as-of-yet unnamed fifth LP. Recording for the follow-up to 2010's self-titled release concluded in December, so plans for a 2014 release seem incredibly high considering the flurry of tour activity. That said, there haven't been any tracklists shared so things are still incredibly tentative. While you wait for the effort to materialize, help yourself to "Barricade" from Interpol's self-titled album.
Tour Dates:

3/18 Glasgow, Scotland- Glasgow O2 Academy
3/19 Leeds, England- Leeds O2 Academy
3/20 Manchester, England- Manchester Academy
3/22 Liverpool, England- Liverpool O2 Academy
3/23 Nottingham, England- Nottingham Rock City
3/25 Birmingham, England- Birmingham O2 Academy
3/26 Bristol, England- Bristol O2 Academy
3/27 London, England- London O2 Academy Brixton
6/6 New York, NY- The Governors Ball Music Festival
6/20 Scheessel, German- Hurricane Festival
6/20 Neuhausen, Germany- Southside Festival
7/10 Lisbon, Portugal- Optimus Alive
7/12 Keflavík, Iceland- All Tomorrow's Parties Iceland
Big K.R.I.T. remixes Gary Clark Jr.
Considering Mississippi-native Big K.R.I.T.'s predilection for blending hip-hop, blues, soul, and it seems all-too-appropriate he'd be linking up with blues-revivalist Gary Clark Jr. The Texas bluesman is currently prepping a "remixtape" of his well-received 2012 debut LP Blak and Blu, and the K.R.I.T. remix of the title-track is our first sampling. K.R.I.T. leisurely travels down the motivational lane for the number. Krizzle offers up pearls of wisdom like "
I know what you're going through, no need to be shy about it, ain't none of us brand new, don't let the world brand you," atop a steady knocking beat. Clark dials down on the traditional bluesy hollering for a soulful croon, giving the whole affair a weightless feeling.
No official date has been announced for Blak and the Blu: The Mixtape, but Spin is reporting Erykah Badu, Talib Kweli, and Bilal will be guesting on the tape. You can hear the title-track here, and view a clip for the monstrous "Numb" below.
Check back in tomorrow for more of the newest in new(s) and follow @AllFreshSounds on Twitter for updates throughout the day.