Titus Andronicus planning a rock opera
Titus Andronicus' "lean" 2012 record Local Business was in many ways a market correction of Civil War reenactment The Monitor the group staged in 2010. But now it appears the New Jersey punk-band is getting bullish again with frontman Patrick Stickles promising a fictional rock opera encompassing thirty plus songs. In an interview with Missoulian, Stickles detailed the narrative partially inspired by his own bouts with manic depression, as well as "Nietzsche's The Birth of Tragedy and Touched with Fire, psychologist Kay Redfield Jamison's book on how manic depression relates to the artistic temperament." Speaking to the musical scope of the record, Stickles detailed an even sharper punk aesthetic that's "faster and the guitars will be more distorted." As of now the "rock opera" has yet to be recorded and there's no time table for a release date. So while you wait, here's a live cut of a song believed to be featured on the LP.
"Fatal Flaw"
Sleigh Bells Bitter Rivals
The ear-drum rupturing New York noise-pop duo Sleigh Bells is following up last year's molotov cocktail of beauty and brutality Reign of Terror with Bitter Rivals, their third LP out October 8 via Mom + Pop. The first in-the-red offering from the album is the strutting title track whose molten guitars and 80s rap drum machine hits burns early acoustic strumming and finger snapping into a pile of ash. These little adornments could be a cosmetic touch-up to the band's sound or the signaling of a full-blown makeover. Either way, when October 8 rolls around ear plugs will be required.
"Bitter Rivals"
Tracklist:
1. Bitter Rivals
2. Sugarcane
3. Minnie
4. Sing Like A Wire
5. Young Legends
6. Tiger Kit
7. You Don't Get Me Twice
8. To Hell With You
9. 24
10. Love Sick
Pixies announce new EP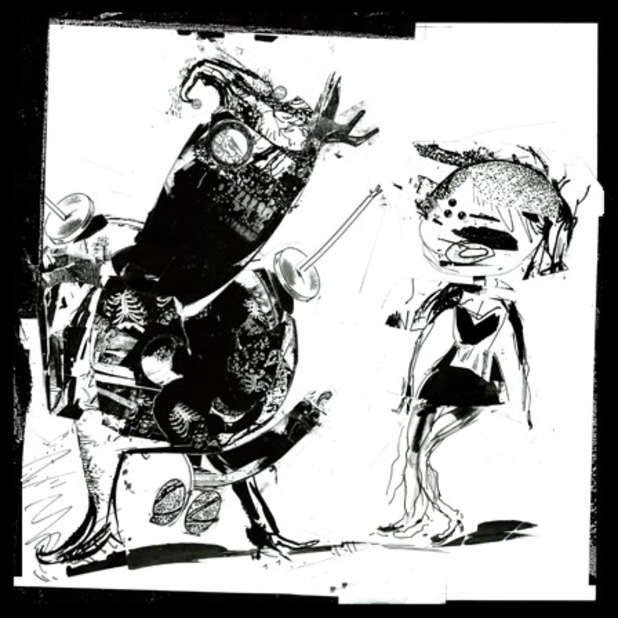 The Pixies 2013 return continues to roll down the tracks now fueled by today's surprise release of new EP EP-1 . According to a piece in the New York Times, the band now without Kim Deal is making plans for a series of "mini-releases put out sporadically over the next 15 months." The first release is available on their website for download and purchase in a limited 5000 copy vinyl run. Frontman Black Francis describes the third cut "Indie Cindy" as a "love song that reflects the anxiety of trying to seduce his audience all over again." The seduction act is carried out through a return to the alternatively blistery choruses and melodic verses Kurt Cobain once copped to ripping off.
"All we can do... is go forward and just prove ourselves," drummer David Lovering says in the article's close. The next 15 months will be the proof.