Yoko Ono/Flaming Lips perform on "Letterman"
Yoko Ono has never been one to shy away from spectacle and last-night the 80-year-old artist brought that showmanship to the Late Show with David Letterman. Performing "Cheshire Cat Cry" from the latest Plastic Ono band offering Take Me to the Land of Hell, Ono was aided by son Sean Lennon and merry-pranksters the Flaming Lips, who provided the abrasively grooving beat. Flips frontman Wayne Coyne mostly stuck to the sideline, manipulating a bullhorn while Ono bleated away "stop the violence". Letterman summed up the piercing act afterwards quipping, "It's fun when you leave the theater humming the music from the show, isn't it?"
Take Me to the Land of Hell is available now through Chimera Music.


Kendrick Lamar throws shots at Drake (kind of)
One of the countless rappers Kendrick Lamar took aim at in the world-conquering "Control" was Drake, who along with a whole host of hip-hop artists Lamar promised to "murder" and make irrelevant. During an interview with Elliot Wilson to promote Nothing Was The Same, the Canadian-artist seemed nonplussed about the whole situation, saying "Kendrick is giving people moments,
but are you listening to it now, at this point in time? Okay... It was real cool for a couple weeks". Now in brief clip from an upcoming BET cypher, Lamar is "covertly" sending shade Drake's way, rapping "Yeah, and nothing's been the same since they dropped 'Control'/ And tucked a sensitive rapper back in his pajama clothes," he raps. "Ha-ha jokes on you, high-five, I'm bulletproof/ Your shit'll never penetrate/ Pin the tail on the donkey/ Boy you been a fake". This time out will Drake have "a reply for it"?
Diss tracks and beef have been a big part of hip-hop since the very beginning, and have lead to stone-cold classic tracks (see "Takeover"), but in this digital era the flames of a feud are easier than ever to fan. If this leads to future awe-inspiring verses from either individual, I'm all for it, but if not hyped up fights like this become a distraction to the artists and do a tremendous disservice to hip-hop as a whole.



Kevin Shields gets conspiratorial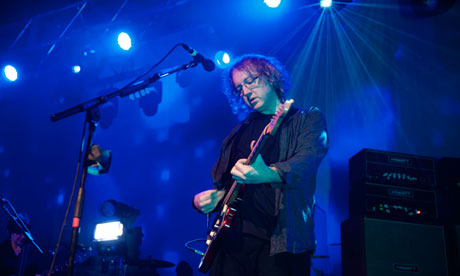 Last time out the notoriously reclusive Kevin Shields (frontman of My Bloody Valentine) was bemoaning the band's stunning omission from the Mercury Awards decrying, "Our album's not a real album because it's independent. The corporate-ness has got to such a point where we've essentially been told that we don't exist. So, technically, that album doesn't exist. OK? It's not allowed to exist according to the Mercury prize... God help [whoever wins]... There are sinister forces at work."
Well now it seems Shields has found even more nefarious forces in the music industry, pulling the strings of an entire musical movement. In an interview with the Guardian, Shields claims the thrivent 90s Britpop was "massively pushed by the government." According to the Guardian, the MBV frontman had a less than thrilled reaction to the mention of the Cool Britannia movement, surmising "
the 1990s wave of optimism and patriotism centered on the global successes of Britpop and bands like the Spice Girls".
Listen to MBV's excellent "she found now" from their 20-years in the making LP mbv below.
Check back in tomorrow for more of the newest in new(s).