Guided by Voices feud grows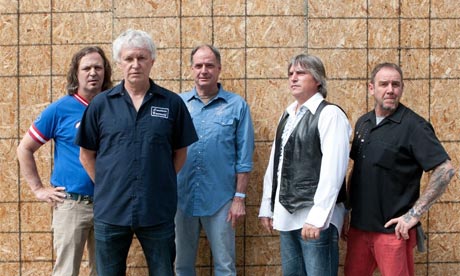 Any "honeymoon" the classic lineup of Guided by Voices had after their 2010 reunion is officially over, as now ex-drummer Kevin Fennell is feuding with frontman Robert Pollard. Last week after Fennell put up his drum-kit on Ebay for auction, Pollard's management responded with the following statement, "For the record, the band Guided By Voices has nothing to do with the sale of Kevin Fennell's drums. He is acting on his own and is no longer in the band."
In a correspondence between the two shared on a now removed Facebook page for the auction, Fennell maintains he quit his drumming gig for GBV; Pollard asserts he was "already fired". Pollard asserts "you have made a fool of yourself by your asking price... and most people would like to know who the f*** you think you are and who you think Guided By Voices is that you can warrant that kind of asking price for your f***ing drums." Pollard then twists the knife in further, going on to say "the so-called f***ing Classic line-up was a laugh to begin with. You're an amateur, you play too fast."
English Little League, the fourth release by the band since reuniting dropped in April of this year, and even without the feud figured to possibly be the last GBV release as Pollard hinted in July, "people at festivals don't want to hear a new album they want to hear the greatest hits." With all this current acrimony, enjoy a cut from their calmer "classic period", 1996's "Official Ironmen Rally Song".
Cut Copy debut new track
Tuesday on the blog, Cut Copy's new track "We Are Explorers" made an appearance and now they're back with another offering, the jaunty "Take Me Higher" whose opening wouldn't be out of place on an R.E.M. record where Stipe and company took a turn towards the dancefloor. Like "We Are Explorers", lead-singer Dan Whitford retains a quizzical tone in his voice as a pulsating beat glossing over a whistle takes hold.
Cut Copy's fourth LP Free Your Mind drops on November 1 through Modular.
Run the Jewels release video for "Get It"
Run the Jewels
, the collaborative effort between kindred spirits El-P and Killer Mike remains one of my favorite records of any genre in 2013 and now the duo has released a video for the apocalyptic lurch of "Get It". The visuals keep up the chest-puffing approach of the song, showing El dangling gold chains and Mike smoking a blunt intermingled with cuts of the two out on tour; bringing their own brand of hellfire to locales all over the map. As their tour draws to a close, it's the perfect summation of an incredible year. A victory lap captured on screen.

If you somehow have avoided the album, Run the Jewels can be purchased through Fool's Gold.