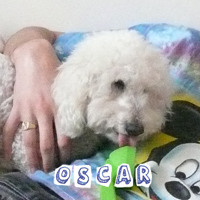 In a soon to be published interview I did with London indie pop artist Oscar, the subject of 90s NY rap came up in conversation. To be honest the discussion took me aback because I couldn't see how 90s NY rap fit into his tranquil pop approach. It was a scene with a prominent group that once threatened "Hit you in the face so hard that your nose bone goes into your brain," which is light years away from "I was talking to you last night and I thought that you were quite nice." Rap's "Mecca" was a cold, desolate place then while Oscar's work now, even at its weariest, is still inviting.
His latest effort "Be Good" manages to work in the muscular drums of 90s NY rap and not frighten anyone. If DJ Premier had smoked a bit of weed before recording the drums for "Kick in the Door" he might've come up with what Oscar has here. After a "Funky Drummer" style intro, they settle into a lazy hopscotch rhythm that wonderfully matches Oscar's deep quivering voice. He's not being pressed and can unspool lines like "whatever it is that you want to say to me, well say it to my face, today," on his own time. Such a leisurely pace allows him to think more, to open up and be honest. "I want you to be good to me, if you could, we could be so sweet," he croons over the chorus' jangly background guitar and blooping keys. It's one of the boldest declarations the burgeoning artist has made yet. One that might not have happened if the confidence of 90s NY rap didn't creep into his world.

Oscar's debut EP 146b is now out on Smalltown Supersound imprint Brown Rice.