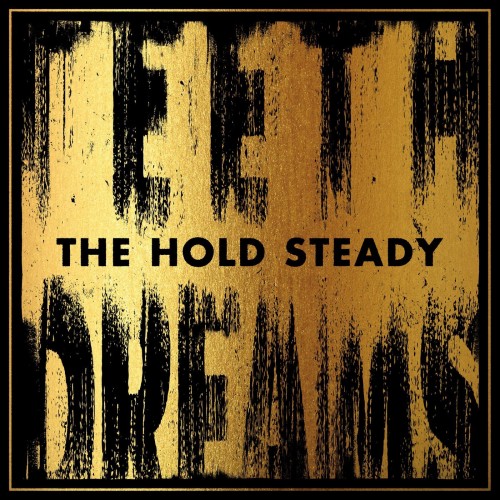 Even before I'd heard a note of Teeth Dreams, the Hold Steady's sixth studio LP, I felt like I knew what I'd be getting. First and foremost the new record would deliver lead-singer Craig Finn's sprechgesang style; half-barked and half-crooned. That unmistakable sprechgesang would tell of: winners, losers, lovers, boozers, cult-like figures, and helpless romantics circling the drain in or around Minnesota's Twin Cities. A sotted group would be joining Finn, sounding like a bar-band holding residency at the same drinking establishment for 10 years straight. In the album I would be able to find riffs aplenty. Outnumbering those riffs would be Finn's quotables, some intensely relatable others far too specific to identify with.
Knowing all that, I still found much to like and marvel at with the Brooklyn-based quintet's latest effort. Though I can't imagine indie-darlings like the Hold Steady aiming for the back of an arena, Teeth Dreams has that air about it. Produced by Nick Raskulinecz (who has worked with: Rush, Foo Fighters, and Danzig) the record is the rock with a capital R album few indie bands bother with anymore. It's become cliché to say, but it is absolutely true. On any given year-end best-of list, you're likely to find at least one band that took the bare-bones, RAWK approach and are lauded for it. A tactic the Hold Steady has taken since day 1. Their squalling guitars, mule-kicking drums, and rumbling bass don't just have you headbanging though, they also give Finn's lyrics a sense of white-knuckle urgency.
Finn's desperation flies off the pages of Teeth Dreams' glossy black lyric book. A main concern this time out is how music can grant saving grace. Lead-single "I Hope This Whole Thing Didn't Frighten You" sees Finn postulating he fell in with the fabled Cityscape Skins mostly for the music. I know I've ended up in uncharacteristic crowds at concerts; trying to find someone to experience the music with because witnessing it alone would represent a pinnacle of loneliness. Finn's female companion in the rallying "Spinners" tries to shed that skin-tingling variety of loneliness by putting another record on and "dancing it off." It's fleeting sanctification however, by the time the needle hits the end of eerie piledriver "On With the Business" the baptismal font has run dry. "All our friends are acting sketchy and lifeless, waking up with that American sadness," Finn prattles over spiky guitars. Being a premier "bar-band" is great for publicity, but can be a

hellacious

lifestyle choice.
While music is the preferred life-raft for some, others cling to ill-conceived relationships. Some will jump right from one person to the next, not necessarily due to an overactive libido but because they hate the stark absence the end of a relationship creates. "Wait A While" focuses on this phenomenon with a sniper's precision. "I'm sure they'll come up in the parking lots and at parties," Finn says of future "suitors." "You know you don't have to accept, collecting boyfriends isn't such a healthy hobby, I'm sorry but there's other words than yes," he not so-gently reminds as a familiar organ echoes his advice. Advice Finn would've been better off taking in "The Only Thing". Though never implicitly stated, the jangling number gives the impression the featured relationship was born out of mutual heartache. Rather than temper it, the two only cultivate more pain. Her teeth crowd Finn's dreams and he's left her "sleeping at a storage space by the airport." When a new guy arrives, Finn warns "first she was with me," refusing to give up "ownership" of something that's long since vanished. No one likes acknowledging the end, but sometimes that acknowledgment is necessary.
More than most, the individuals walking the desolate halls of Teeth Dreams' final two tracks need to acknowledge their time is up. Defined by interlocked acoustic guitars, "Almost Everything" documents two people too naive to notice the warning signs. Instead of airing their grievances, the central couple sits "in the back of the theater just drinking and talking about movies and Krishna and hardcore and Jesus and joy." From the beginning they refused to listen, when one warned "I can't spend the night" the other ignores the statement. They're an example of Jim Carrey's sentiment in Eternal Sunshine of the Spotless Mind that "constantly talking isn't necessarily communicating."
Epic-closer "Oaks" completely eschews conversation for chemicals. In the slow-cresting waves of guitars and plodding drum kicks, a couple is caught waiting on a corner for kids who've run off with their money. "Gave them half, but they never came back," as Finn remembers it. "Half" is the perfect amount to land on, because this decaying couple is split on everything. They shuffle between being "scared" and "brave." Akin to Bruce Springsteen's street-urchins in "Jungleland", they long to break out but are never quite able. They sleep as often as they stay up. Even when they dream, their dreams feel corrupted. The titular "oaks" they idealize are obscured by thick, black smoke. Inevitably such a split sinks them, their "glass-bottom boat" is shattered by the time Tad Kubler's rending guitar solo comes in. Nothing's left because nothing was ever fully committed to.
If there's one thing barring Teeth Dreams from being equal to the Hold Steady's earlier successes Separation Sunday or Boys and Girls in America it's their own half-commitment. Listening to the album I get the impression they're suddenly uncertain of their sound, which can be partially attributed to keyboardist Franz Nicolay leaving in 2010. To account for the lost they overcorrect, shifting between bands the aforementioned Raskulinecz has produced and a group Finn would've seen for $5 on a Friday night back in Minneapolis. It's hard to separate instruments from the mix at times, possibly because they're afraid of wandering too far out into the open. Some, like bassist Galen Polivka border on inaudible. Even in spirited moments, Bobby Drake's drums occasionally sound like cardboard. In that way the whole band embodies Finn's characters that do whatever they can to survive. They scratch when they have no claws or talk when they know there's nothing left to say. They're full of bark, but their bite is far from certain.