While music has been my longstanding passion (obsession), film has always been a close second. Thanks to the added visual element, film can transport us to other worlds we could never imagine in the auditory realm. That's why, even more than the Grammys, Oscar night is a night I relish more than any other TV-night of the year (Super Bowl excluded). We get to see creative visions rewarded and dreams made. But as much as I love film, I'd being lying if I didn't say one of the categories I most look forward to every year is the "Best Original Song" category.
This year in particular is one I've been eying intently. It's a peculiar battleground where commercial juggernauts like Pharrell's "Happy" are squaring off against critical darlings like Karen O's "The Moon Song." This doesn't that happens every year. When Three 6 Mafia (pictured above) won for "It's Hard Out Here for a Pimp" the song wasn't exactly tearing up the Billboard charts at the time. Not so for "Happy" which is currently sitting at #1 in the country this week (more than 8 months after its release). 2013 is also the year that saw a nomination disallowed and U2 virtually appear out of nowhere to humanize the larger-than-life Nelson Mandela. Finally Frozen managed to unveil another in a long-line of Disney songs effortlessly tiptoeing between schmaltz and sentimentality. I personally have one track in particular I'd love to see win above others, but there are reasons all four deserve the award. So without further ado, your nominees for Best Original Song.
"Happy"- Pharrell (Despicable Me 2)

The word "effervescent" was meant for Pharrell's infinitely grooving "Happy" from the Despicable Me 2 soundtrack. His voice floats lighter than air above restrained organ burbles, rousing handclaps, congo taps, and soulful backing vocals.
He rattles off "I don't care" which amounts to one of the biggest lies of 2013. Nothing so effortless sounding comes into existence by happenstance. Pharrell's been one of the most restless tinkers in music for a decade plus, a quality that isn't abandoned just because he's soundtracking an animated children's film. Elsewhere Mr. Williams

assures us "can't bring me down" and instantly you know he isn't lying. "Happy" is the sort of track that places you in a permanent residence on Cloud Nine. "Funk" is another word you could bandy about in discussing the effort, but it's too strong of a word to describe something so featherweight. Drop the "k" and you're closer to the truth.
"Let It Go"- Idina Menzel (Frozen)

I've consciously avoided seeing Frozen. All I needed to do was catch a few previews of the latest Disney-princess tale to know it isn't for me. "Let It Go" at least makes me reconsider my possibly stubborn decision. Not matter how overly sappy a track can get, I'm a sucker for the slow-build into the soaring chorus (it's a reason I'll always love Coldplay.) In fact if I'd been told Chris Martin had penned "Let It Go" I wouldn't be surprised in the least. Idina Menzel's voice is fragile at first, deeply sighing above twinkling piano keys and wispy strings. You wouldn't have the slightest idea the track is headed anywhere rousing if not for Menzel tipping her hand to say "couldn't keep it in." And that chorus is the kind of thing preteens in particular will relate to. "I don't care what they're going to say" she definitely protests. Physical strength becomes irrelevant in the face of so much self-confidence.




"Ordinary Love"- U2 (Mandela: Long Walk to Freedom)



Even before his death late last year, there wasn't exactly anything ordinary about the life Nelson Mandela had forged for himself. In spite of he flaws he had (which do in fact exist), he was able to transcend them all to become a beacon of hope for an entire country. A spiritual and political leader of a disaffected people. And perhaps most importantly, a symbol of the struggle for freedom so many around the world still feel.
U2's "Ordinary Love" (produced by Danger Mouse) forgoes that political struggle for something much more personal, a struggle to make a relationship work. The initial novelty has warn off and the "fight to survive" has begun. "I can't fight you anymore, it's you I'm fighting for," Bono sings in exasperation. U2 as the biggest rock band in the world has been a notion for awhile now, but in moments such as these they sound impossibly small. Edge's guitar doesn't lacerate so much as languish and Larry Mullen's drums silently tick in the background. They are drowned out by roaring seas and mighty winds. However not a single one of those sounds rings as loud as the beating "heart on the sleeve."
"The Moon Song"- Karen O (Her)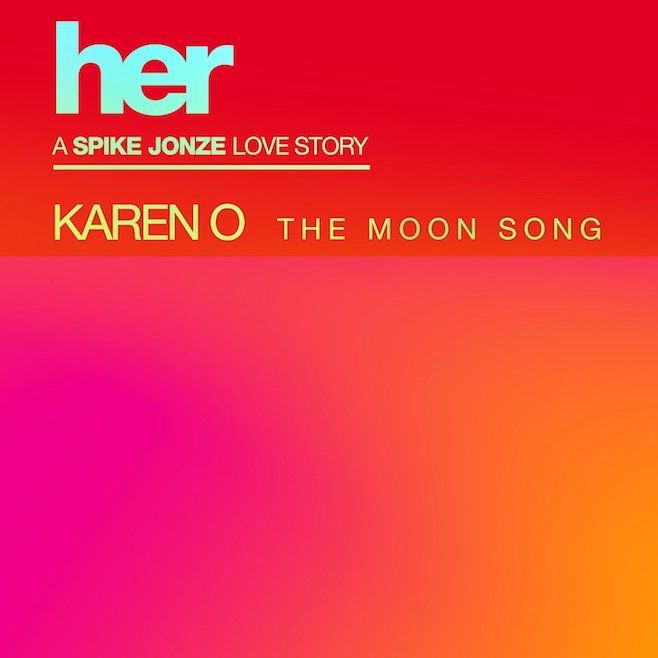 "That was a great movie and I never want to see it again," a friend of mine remarked as we walked out to a cold January night in Columbia, Mo. His reason for wanting to be "one and done" with Spike Jonze's fourth film was quite simple, Her is one of the most painfully resonant movies anyone that's ever loved and lost could ever come across. It doesn't matter that it's set years into the future or that the principle love story involves a man and a "machine." At it's core it's a sadly timeless tale. The sort of story where love is: over-idealized, unrequited, and tortured.
At the center of that tender core is Karen O's sublimely restrained "The Moon Song." In the film, the song comes wafting in as
Joaquin Phoenix's all-too-human Theodore Twombly sits in bed and begins to craft a love song with Scarlett Johansson's Samantha. For all that divides them, the two have remarkable chemistry in the moment. They're able to finish each others sentences and perfectly lay out what a relationship between them would resemble. "There's no thing I'd keep from you," Twombly promises and Samantha only longs to know more. As he continues to delicately pick strings the two are further intertwined, to the point that their shadows are following each other around. Even at "a million miles away" they feel safe in each others' arms. Love can convince us of anything and "The Moon Song" offers ultimate proof of that unavoidable fact.