In the Time Machine Over the Sea
Screenshot from the Neutral Milk Hotel inspired RPG.
File this under the category of too good to be true.

At least one very enterprising-gamer known as BroPortal has made legions of indie-kids day with this Neutral Milk Hotel based role-playing game. The RPG, entitled In the Time Machine Over the Sea throws you into a world where you are NMH frontman Jeff Mangum and Anne Frank is your girlfriend. In the game, whose plot is loosely based off of the band's sophomore release In the Aeroplane Over the Sea, you hangout with Radiohead frontman Thom Yorke and eventually fight Adolf Hitler.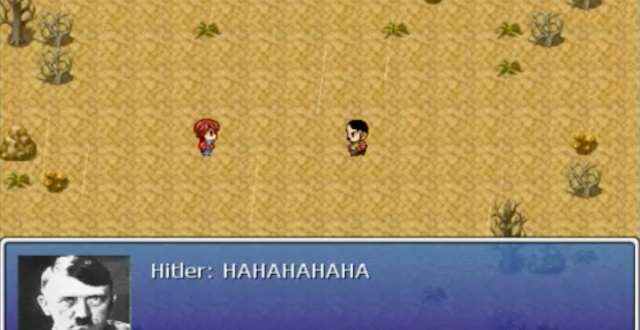 In other NMH news, Mangum fresh off a
well-received
set at All Tomorrow's Parties in Asbury Park, NJ performed an impromptu-set at the "Occupy Wall Street" rallies in NYC this past Tuesday. Mangum played several songs from
In the Aeroplane,
with a captivated crowd singing along. Before his show in August, Mangum had stayed in the shadows, avoiding live shows since the release of
In the Aeroplane
in 1998.
Jeff Mangum "Occupy Wall Street" set (40 min)