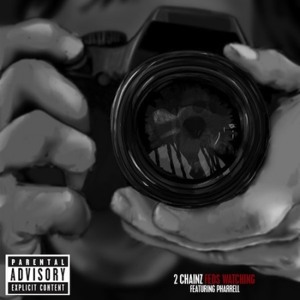 I'll never be a full-blooded member of the 2 Chainz team. It's got nothing to do with his former moniker being the ludicrous Tity Boi (there have been worse rap names, Yak Ballz anyone?), his gleeful goon image, or even his over-reliance on name-checking couture clothing labels (I really hope the dude's getting his YSL check by now). It's got everything to do with his irritating tendency to take a play or two, letting the ball drop when he's lost interest in the game. When he's bringing his A-game on tracks like "Mercy" he manages to make a seemingly dumb line "gettin' drunk and high at the same time, drinkin' champagne on an airplane," absolutely rousing. With "Beez in the Trap" he does the impossible and upstages an on-point Nicki Minaj, stumbling his way to success like a rap Manu Ginobli.
"Feds Watching" (whose video dropped yesterday) is a game 7 performance, assisted by Pharrell's production. It's a welcome fit in the Pharrell canon, the light airy synthesizers beefed up by the thudding drum machine. 2 Chainz running down the lines "I'm so fly I jumped out the air wearing Gucci" and "I'm raw talking California rolls," with ease. Rattling off lines you swear you could write yourself but don't personality or wherewithal to try is 2 Chainz stock-in-trade, and he's trading high on "Feds Watching." The 2 Chainz tent will never be for everyone, but that doesn't stop him from making room.
"Feds Watching" will be featured on the forthcoming B.O.A.T.S. 2: Me Time, which still has no release date.