Bob Dylan's original lyrics to "Like A Rolling Stone" are going up for auction



Instead of scrounging for their next meal, fans of Bob Dylan will have to start scrounging for cash if they want to get a hold of the initial drafts of his game-changing '65 single "Like A Rolling Stone". As "The Guardian" points out, Dylan's original lyrics are headed to New York auction-house Sotheby's and are expected to fetch anywhere from $1-$2 million, which would surpass the $965,500 his electric guitar at the 1965 Newport Folk Festival fetched.
One reason for heated interest in the drafts is due to Dylan's lyrical fidgeting, which includes trying to rhyme gangster "Al Capone" with the famed "like a complete unknown" line and dabbling with "dry vermouth." Along with the rough drafts of the Highway 61 Revisited-track are a series of doodles and commentary penned by Dylan that has been called a series of "stray thoughts on American cultural imagery." Based on Sotheby's own investigating, the papers contain the "only known surviving draft of the final lyrics for this transformative rock anthem," which were purchased directly from Dylan by an anonymous seller.
If the price tag is too rich for your blood, you can enjoy the still great video for "Like A Rolling Stone" free of charge.




Christopher Owens of Girls drops the country-tinged "Stephen"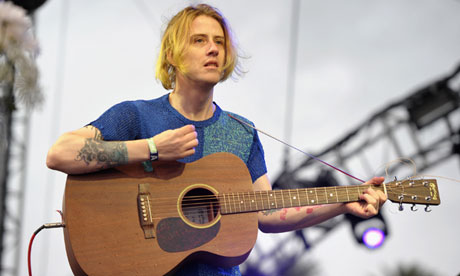 John Shearer/WireImage


Though details on former Girls lead-singer Christopher Owens' sophomore album are still sparse, today's release of the gently-twanging "Stephen" will fill in a few more blanks. Following in the snakeskin boot-prints of the pastoral "It Comes Back To You", the new single shuffles further into country territory.
Aided by church-like keys and delicate backing vocals, Owens captures a profound sense of familial loss with his lonesome nasal croon. "Just like an angel, he flew away," he weeps as an organ wails and the choir hits a crescendo. By the end you half-expect the song to do the same. If the tracks we've heard so far are any indication, Owens' 2nd record will be a gorgeous affair.

Check back tomorrow for more of the newest in new(s) and follow AllFreshSounds on Twitter for updates throughout the day.