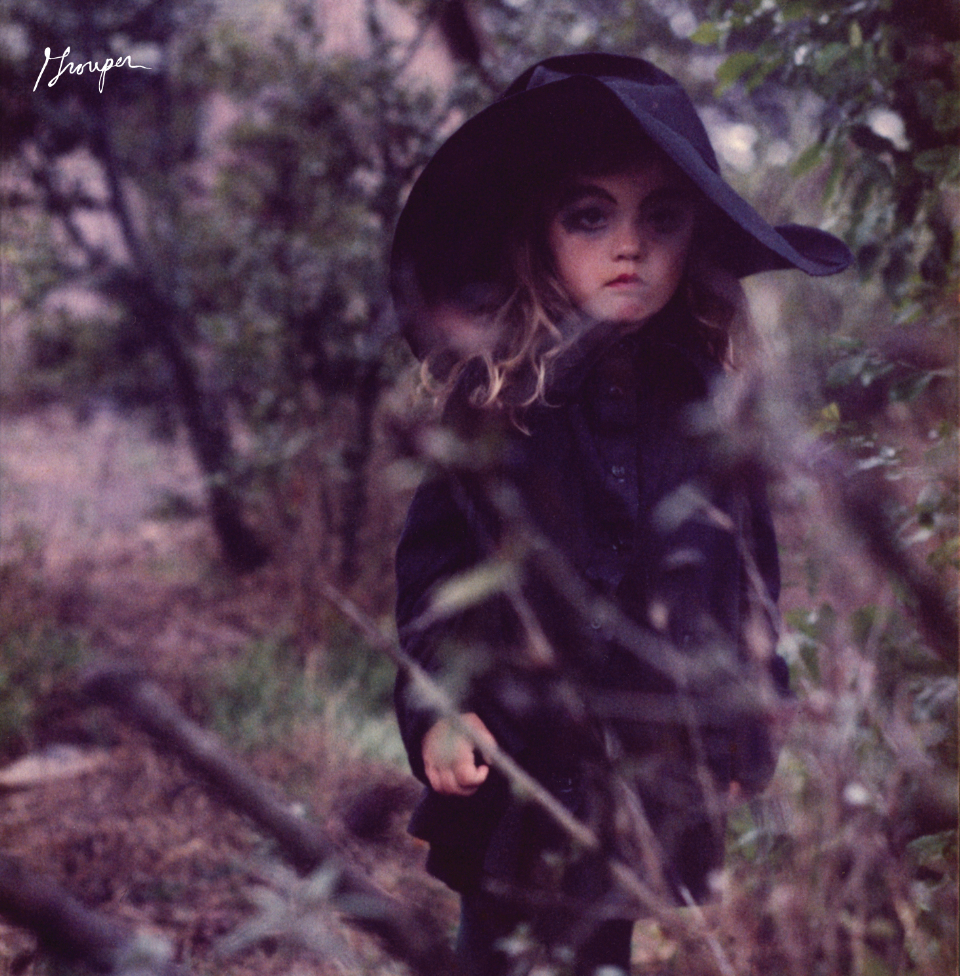 I can't say for certain, but Grouper's 2008 track "Heavy Water/I'd Rather Be Sleeping" may have more plays than any other song in my entire collection. Of the 28,000 songs I have, comprising more than 76 days' worth of music, "Heavy Water/I'd Rather Be Sleeping" commands the most respect. There are songs I've loved longer, but none that I've fallen as hard for. Liz Harris' diminutive ambient-folk tune is an effort you put on once and continue hitting repeat on an hour later. Its spellbinding minimalism performed at the highest level.
Such starkness flows out of every corner of Dragging A Dead Deer Up A Hill, from opener "Disengaged"s impossibly decipherable vocals to the LP's tragically candid cover. That picture is one that grabbed me when I first saw the record inside Kansas City's defunct Streetside Records and pulled me right towards the cashier's counter. Like Ana of the Spanish-classic The Spirit of the Beehive, there's a hopeless naiveté radiating out of her eyes. An unquestionable dread seizes her face for certain, but also an odd whimsy. Perhaps she's standing like a tiny Terra Cotta soldier because she's out in those desolate woods playing freeze tag. That strange dichotomy played out in a story (partially referenced here) where a young Harris dragged a deer carcass up a hill to impress a friend. Rather than express amusement, there was only bewilderment. Harris' attempt to be "remembered" in a positive fashion had failed.
"Heavy Water/I'd Rather Be Sleeping" is consumed with this universal desire. In particular, love is what Harris softly hopes will "lift her up." Even without a lyrical aid, Harris' delicate whisper leaves a sizable impression. "Cries for attention that go unnoticed" is how a good friend and roommate of mine once described Harris' music as Grouper and "Heavy Water" was the track he was first referring to. If not for the gallons of reverb poured on her vocals you'd be able to hear Harris weeping in between guitar strums. For every day these intense feelings persist, another tear plunks to the floor. Roy Orbison once sang of "dreams" being the only places his wishes could become real and Harris is caught in the same predicament. It's in the dreams of the indelible chorus where Harris is lifted up and can see over mountains of disappointment. More than just wishful fulfillment, her dreams shield her from an unforgiving world. A world where you're routinely ignored and frequently forgotten about. In reality relationships can be cleaved in an instant, in dreams they can last forever. Can you fault Harris for wanting to sleep in?