The list keeps on rolling, as we edge closer and closer to the number one album. But before we continue, here's what's been spotlighted so far.
30. 4- Beyonce
29. The Dreamer, The Believer- Common
28. Just Once EP- How to Dress Well
27. Alien Observer- Grouper
26. Step Brothers- Don Trip & Starlito
25. Cole World: Sideline Story- J. Cole
24. Weekend at Burnies- Curren$y
23. Suck It and See- Arctic Monkeys
22. Celestial Lineage- Wolves in the Throne Room
#21 The Whole Love- Wilco
No other band on this list could hate success more than Wilco. As soon as
Yankee Hotel Foxtrot
was labeled
perfect
by a frothing music-press in 2002, Jeff Tweedy and company had to be nervous. Their subsequent albums would be compared to it, the record serving as a cruel musical measuring-stick. The album cast a shadow taller than the buildings on that minimalist cover.
"You won't set the kids on fire, oh but I might," trills Tweedy on the infectious
"I Might,"
recalling the days when his band was the thing "the kids," were listening to. The track is Wilco in single-mode, delivering a catchy piece with an experimental twist. With a marching band drum beat, heavy guitar strumming, and Farfisa organ, "I Might," sounds like a 60s garage rock cast-off. The song would be a dead-ringer, were it not for the scrawls of guitar puncturing its pop credence.
Elsewhere on the album, Wilco returns to the alt-country terrain they once galloped across, summoning the magnetic
"Black Moon."
The track starts with classic country fingerpicking, pedal steel tagging close behind. When Wilco takes the turn toward country again on "Open Mind," they retreat back to their
Summerteeth
days. "I would love to be the one to open your mind," Tweedy sings. When people hear that "Wilco sound," this is what is winding through their ears.
In the almost ten years since
YHF
, Wilco has released four albums, each disturbingly-declared by a cadre of critics to not be up to par. On
"Standing O,"
Tweedy obscurely strikes back, saying "I'm not the same as almost anyone." Anyone in Wilco's place would have gotten lost in that massive shadow, releasing tepid record after record, diminishing results the only thing to show. The thing is Tweedy is isn't anyone and Wilco isn't content with staying in the shadows.
"Open Mind"
#20 Bad as Me- Tom Waits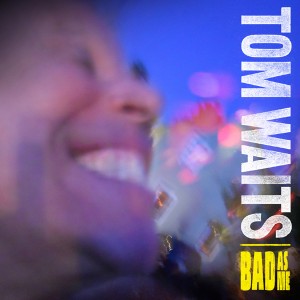 After nearly 40 years since his first album dropped, Tom Waits doesn't need us anymore. He's been a critical darling from
the start
, has had a degree of commercial success and seen his songs covered by more-popular acts like Springsteen and Johnny Cash. Waits has done all of this while remaining relevant, re-inventing himself just when he was starting to stall. When you have a career like Waits, there's no reason to keep going when you've proven yourself time and time again, but the prickly performer has never done what's been expected.
When that banjo first starts plucking away and the devilish horns kick down the door, you know this is a Tom Waits record. "The seeds are planted here, but they won't grow," he growls with that ungodly-voice. "Chicago" has Waits written all over it, with propulsive percussion and stabbing guitar licks. As the vapors float away, a rude organ clatters and an irregular drum-beat takes a two-by-four upside our head, launching
"Raised Right Men."
Musically the song is mid-80s Waits, with the singer simultaneously possessed and on the edge of tears. The speedy 1-2 punch is slowed and then we rejoin on the other side with the 1950s-styled "Get Lost."
As chaotic and blistering as Waits' career has been since he made the switch to experimental-rock artist, he is still at his best hearkening back to his time spent in the 70s. A time when he was Tom Waits, singer-songwriter. "They pay me not to come home, keeping me stoned, I won't run away," he croons on
"Pay Me."
Over a measured accordion and flamenco-flavored guitar, Waits offers one of the most moving tracks of his career, a track that comes to realize that "all roads lead to the end of the world." When he's done, a melancholic piano carries us into the carnival night the song recalls.
Every facet of Waits is on full-display with this album, ornately-crafted. On Bad as Me, we hear Waits the former-drunk, Waits the hopeless romantic, Waits the howling-demon, and Waits the insincere storyteller. This incarnation has the last-laugh with "New Year's Eve," a rambling-narrative of the scene just before the ball drops and another year enters the books. "Should auld acquaintance be forgot and never brought to mind," goes the familiar chorus. Waits may be a mercurial musician, but he'll never be forgotten. He'll always be around, the last man left at the holiday party, standing with his "records in a brown paper sack."
"New Year's Eve"
#19 Live, Love, A$AP- A$AP Rocky
$3 million. A$AP Rocky
signed a dea
l for more than $3 million. When fellow New-Yorker The Notorious B.I.G. signed his deal with Bad Boy, he couldn't have imagined such a colossal contract. When Biggie signed he had what's
been called
the greatest rap demo tape of all-time, A$AP had two singles and a mixtape in the works.
Fortunately for A$AP that mixtape became the strongest to drop all year. Rocky could've gone the way of Papoose, signing a massive deal and failing to earn his keep, but he doubled-down on what made his initial singles so successful. If
Step Brothers
is a mixtape of
regional transcendence
, then this tape by the kid from Harlem is one of regional rejection. NYC has been the mecca of rap since the get-go and if you came up there people expected you to sound a certain way. The last time an artist showed this much disrespect to the Big Apple style, RZA was commanding his Wu-crew to
"bring themotherf***ing ruckus."
Though this tape will never approximate the greatness of
Enter the Wu-Tang
, it's a similarly much needed slap in the face to a city that's slowly dying.
The tape itself is a veritable who's who of indie-rap producers, featuring the haunting lushness of Clams Casino, the slow-blaze of DJ Burn One, and the Three 6 Mafia-aping Spaceghostpurrp. Though he pulls together disparate beatsmiths, Rocky's sound is beholden to the city of Houston. This is chopped-and-screwed music at its most tolerable and given the music, Rocky spends plenty of time talking about sipping "purple drank," and "puffin' purple weed."
"Trilla,"
referencing a phrase originally crafted by H-Town natives UGK, sports a sample that would be right at home on a DJ Screw tape, the creator of the style Rocky so lovingly embraces.
Working with a cast this impressive makes Rocky's job all the easier. He stays close to tried and true rap topics of: money, fame, drugs, and women, but with these beats it doesn't matter. "Demons posted all around me, I can't beat 'em on my own," he raps on the show-stopping "Demons," knowing that that $3 million deal might just cost him more than it earns. On closer
"Out of this World,"
he references Jay-Z, one of the few times another NYC rapper is recalled on the tape's 56 minutes. Rocky may never be the king like Jay, but being the king doesn't matter to him. If the NYC scene is dead as Rocky suggests in the hook, he's content to "let it rest."
"Demons" (unofficial)